The Artist Behind the Statue
Interview with Atlanta area artist Kevin Chambers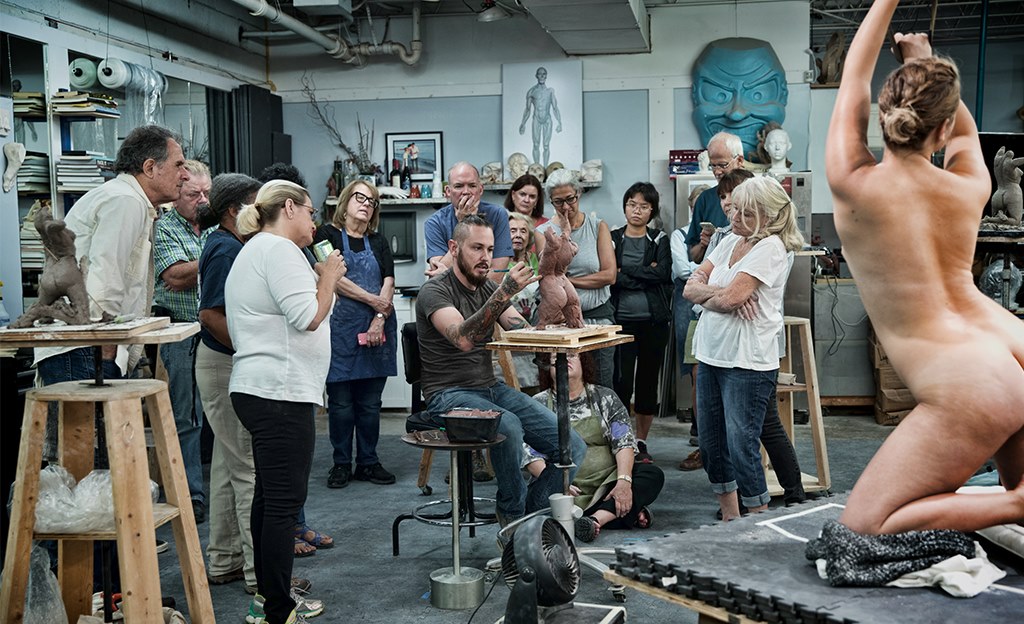 How old were you when you first took a serious interest in art?
As far back as I can remember I had an interest in being creative. My mom likes to say that I started drawing as soon as I could hold a pencil. I grew up in small North Georgia town and didn't really realize that being an artist would be an option. When I was twelve I met and started studying with a professional artist, Colleen Sterling, who had made a very successful career as an artist and retired to Blairsville GA. She showed me that it was possible to be an artist for a living; I never looked back.
Are there artists in your family?
There are some very creative people in my family but I am the only one to make it a profession.
Are you mostly self-taught or did you learn more being classically trained?
Where sculpture is concerned I'm self-taught. My BFA is in graphic arts and illustration. However, I have studied sculpture from several amazing artists and mentors over the past years.
Initially, who were you influenced by? Any particular time period or genre of art?
I have always been drawn to classical realism, especially figurative works both in painting and sculpture.
What artists inspire you?
This is a long list but I will name a few. Brian Booth Craig, Carpeaux, Houdon, Bernini, Richard MacDonald, Javier Marin, Michelangelo, Glenn Vilppu, Reubens, Degas, the list could truly go on forever.
Do you ever respond to or follow the works of any of your contemporaries?
Absolutely! I see the sculpture world as a small family of rare likeminded individuals. I am always excited to meet or talk with another sculptor.
Do you remember any good advice given to you when you first started creating art?
Don't waste your time comparing your work or your abilities to everyone else. Stay focused and create the work that you need to create.
Do you have a daily regiment when working or do you wait for inspiration? What inspires you? Motivates you? How does your artistic process start?
Knock on wood, I have never been short on inspiration. My only daily regiment is to try to sculpt everyday even if just for an hour. I'm inspired by many different things. I'm fascinated by dancers and gymnasts that can push their bodies to unimaginable extremes; and at the same time, I am just as inspired by simple subtle beauty in a classical pose with a model. I am motivated by a desire to improve my craft and learn new techniques. Most of my work starts by working with a model. Sometimes I have a specific idea in mind but most of the time I start with a blank slate and work together with the model to develop the sculpture. Working with a model is a very intimate relationship for me. They are not just there for me to use as reference, we are working together to create the best piece we can.
Being a painter and a sculptor, do you enjoy one medium more than the other?
I prefer sculpture hands down. I feel like sculpture embodies a little bit of everything; drawing, painting, illusion, engineering and construction.
What is the biggest theme in your art?
Overall, I use the human figure to express complex subtle emotions. I also love to experiment with mythology and religion. The power and influence they hold over people fascinates and intrigues me.
How long does it usually take to complete the actual sculpting process?
This really varies from piece to piece. Small sketches can be an hour, and more developed larger figures can be hundreds of hours.
Where do you get your metal for your bronze sculptures?
I have my sculptures cast at a few different fine art foundries. I primarily use a service known as "cast and blast" from Art Castings of Colorado. Basically this means that the foundry takes the wax sculpture I supply them and casts it in bronze. They send me back the raw pieces and I take it from there, welding the pieces back together, cleaning up the welds, and then doing the patina, mounting to a base etc.
Do you create molds of the original sculpture?
Yes. All of my bronze sculptures generally start with a clay original and we make a rubber mold of the clay in studio.
Do you use models or photos when sculpting?
I sometimes supplement the live model with the use of photos. I generally never work only from photos unless I'm doing a portrait of someone who is no longer alive. There is just no substitution for the live model. Along with my wife Lauren who is a professional photographer, we have developed a very strict way of shooting the models that give me photos that are very reliable to sculpt from when the model is not available.
What is your favorite experience as an artist?
I have two answers for this one. My overall favorite experience is having the freedom to wake up and create every day. Some days I may not be working on exactly what I want, but it's always challenging and creative and I wouldn't trade it for anything. The second experience would be sculpting and installing the Alpharetta Veterans Memorial at City Hall in Alpharetta GA. Being able to be part of a project that honors the men and women that sacrifice so much for all of us is beyond words.
Do you find it hard to part with your work once it is finished? Have you ever created a sculpture or painting that you were so attached to that you couldn't let it go?
Not at all. Part of the process is, and should always be, showing the work and creating experiences for other people. I am so thrilled when someone is moved by a piece I have created that I would give it to them if I could. There are however a few pieces that Lauren has procured as part of her collection. Those pieces are not and will never be for sale. Happy wife happy life!
Who is the typical client that purchases your sculptures?
This varies significantly. I have sold work to the rich and famous and also to my students. I've loaned pieces to friends that really liked the work but didn't have the cash for it, as well as trading the work for services I need.
Does your work find an audience outside the US?
Yes. I have sold a few pieces internationally. I also do a lot of hospitality industry sculpture that has been placed in properties all over the world.
Do you have intents to impress a message to, or influence society with your art, or is it more about your own personal expression of your talent for your own pleasure and for others?
For the most part my work is very personal and created to tell my own message. I try to avoid skewing my work to make some social message. Sculpture is a very powerful form of art and can be used to deliver a strong message. If the original intent of the work is to develop a social message I'm fine with that but I don't pursue it often.
In your paintings, you choose bright, solid, primary colors… is this a preference or a "trademark" of your technique? Have you created any paintings with soft hues or a subtle palette?
My paintings started as a break from sculpting. Sculpture really takes forever to finish. You may start a piece and work on it for years before you see the finished product in bronze. I started doing some paintings just as a way to start and finish something in a few hours. So, my paintings are painted in a very quick gestural manner usually with my hands or even some broad sculpture tools, as I don't really own many paint brushes. I prefer not to focus too much with worrying about the colors. I usually pick a few colors that will work well together and just go with it, thinking about form and light more than color.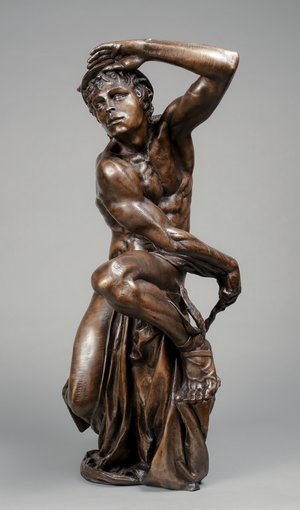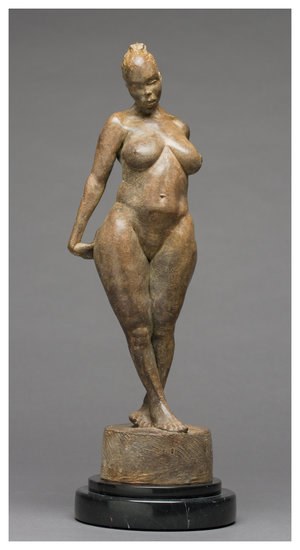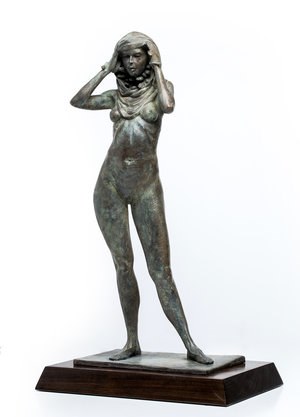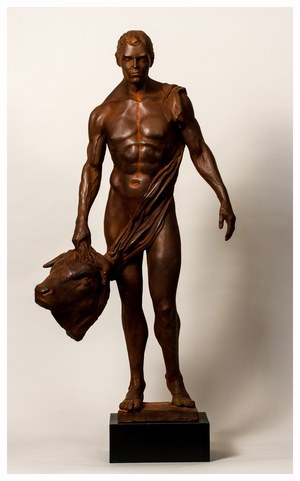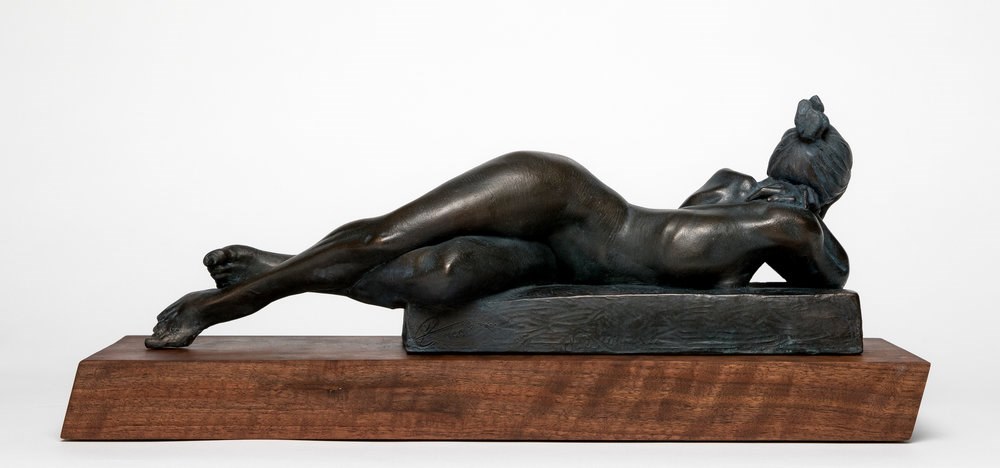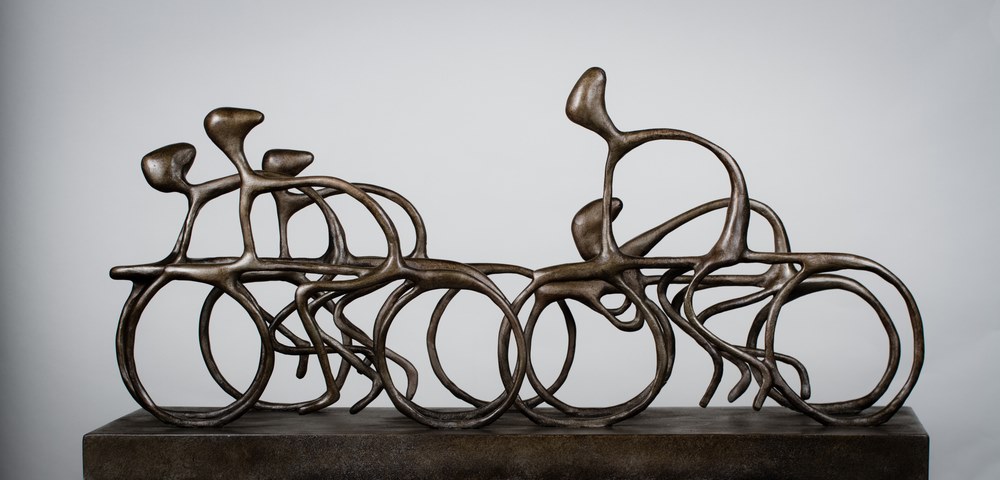 What size do you usually create your paintings?
They range from about 16" x 20" to 4' x 8'.
What other forms of creativity do you like, other than sculpture and painting?
I can find a way to be creative in several different mediums. I fell in love with photography for a while and I find cooking to be very fulfilling and creative too.
I noticed you offer a sculpture class… how long have you been teaching and have any of your students gone on to sculpt professionally?
I have been teaching sculpture a little over 10 years now. I am hesitant to say that students often go on to do other things. You never really stop learning in the sculpture world so we all kind of stay students for our whole careers. Several students have done a lot of professional work whether that is a gallery showing, public monument, or working with me on commissions in the studio.
Any advice for artists trying to get established?
It's difficult to be prepared to work non-stop. Living as an artist is not for the faint of heart. It's not something that will be fun to try. It has to be a passion that you can't imagine living your life doing anything else. It's a life of long hours and a lot of sacrifice but the reward is 1000 times worth it. If you are willing to put in the work and really dedicate yourself to learning your craft and are willing to fail and try again you will do fine.
What are you working on now, and what are your plans for the future?
I generally have 15-20 sculptures in various stages of progress at all times. Those range from small dancer sketches, to a half-life size full figure, and a self-portrait I have been working on for three years. I also have about 6 public commissions in studio right now, so we stay pretty busy. As for the future, I plan to start taking some of my smaller pieces such as "Awaken" and enlarging them to life size bronze pieces. I also hope to move work into some new galleries in markets like Santa Fe NM, and Charleston SC.